ECTP – 12ième biennale – Appel à contribution
"Cities and the Olympic Games, what benefits for the territories and their populations over the long term? "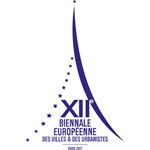 XIITH BIENNIAL OF EUROPEAN TOWNS AND TOWN PLANNERS
PARIS 27-29 JUNE 2017CITIES AND OLYMPIC AND PARALYMPIC GAMES, FEEDBACK AND FUTURE
 
CALL FOR CONTRIBUTIONS FOR WORKSHOPS AND EXHIBITION - 
PROPOSAL DEADLINE : APRIL 15TH 2017


The European Council of Spatial Planners is organising with the City of Paris and the Plaine Commune the XIIth Biennial on the theme of "Cities and the Olympic Games, what benefits for the territories and their populations over the long term? "
This theme will be presented at an opening plenary with:
– representatives of Plaine Commune and Paris,
– Alfonso Vegara, Spatial planner and President of the Fondation Métropoli, President of the 2017-2018 European Urban And Regional Planning Awards,
– Joris Scheers, President of the European Council of Spatial Planners.
The workshops of the biennial will allow exchanges on
1- feedback from the European cities that hosted the Olympic Games
or cities that have finally abandoned their candidacy
2- Elements of perspectives will also address the following themes:
Urbanity
Social cohesion
Governance
Values, identity, image
Environmental awareness
Economic competitiveness
The XII European Biennial of European Towns and Town Planners will bring key elements of understanding and the challenges that candidate cities must meet in order to make the organization of the Games an urban and social success.
Appel à Contributions pour Les Ateliers et pour l'Exposition : infos en français
The Biennial dedicated website, with registration facility will be open end March.